Our
Office

Team

Our office team ensure the day to day smooth running of Simon on the Streets.
Becky Harris
Community Fundraiser and Admin Officer
Becky is a new member to the Simon on the Streets team; having previously worked in administrative roles in the NHS and volunteering supporting people who have experienced domestic abuse with the charity Behind Closed Doors. She is keen to start her career within the third sector and looks forward to the skills she will learn working for a passionate charity such as Simon on the Streets and strives to be part of making a positive change in vulnerable peoples lives.
Scott Bell
Volunteer Coordinator & Co-Production Lead
Having spent the past 7 years in various organisations, the last 5 years at a large Drug and Alcohol Treatment provider in Kirklees, Scott found his way to Simon on the Streets, working in a service providing support for a need close to his heart.
With years of Lived Experience alongside lots of professional skills, Scott is now back working to make Simon on the Streets a fertile ground for Co-Production to happen.
This is something he has done before in many different ways including being integral in the development of the WY-FI Project and working alongside Leaders in the Health Care System at the Centre for Innovation in Health Management.
About his role, Scott says:
"Involving clients/patients/service users in the care and support they require ensures sustainability and development of in time services as well as builds trusting relationships with the people we work to serve."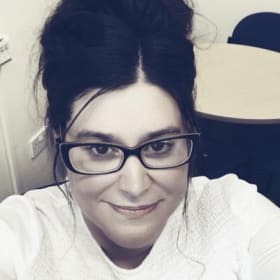 Natalie Moran
CEO
Natalie has spent the last 14 years working in the Voluntary Sector, predominantly managing Drugs and Alcohol services across Yorkshire and Humberside. Her roles for DISC and CGL involved working in partnerships to manage services that supported vulnerable individuals, both in the Criminal Justice System and in the wider community, to help them access treatment for their addiction and begin their journey to Recovery.
Natalie moved to St Anne's Community Services to take on the role of Area Manager, where her portfolio of services spanned across Leeds, Wakefield and Sheffield. These services included Mental Health Supported Living, Alcohol Detox and Rehab, St Anne's Resource Centre Homelessness Service, Bevin Court Hostel in Sheffield for Homeless Men and the following services within the Forward Leeds Consortium; Harm Reduction, Housing and Alcohol Detox Teams.
Natalie has been working as part of the Leeds Street Support Team representing St Anne's Resource Centre and re-launched the service last year to ensure its integral position in the city. Her vast experience of partnership work, change management, performance management and delivering and shaping services have enabled her to see real positive change and fantastic outcomes for those most vulnerable.
Natalie is proud to be able to bring her knowledge and experience to enable her to continue this work as CEO of Simon on the Streets and lead the organisation in tackling homelessness, contributing to policy change and providing support to the most vulnerable in our society.
Our
Outreach

Team

Our Outreach Workers are non-judgmental, empathic and great motivators – and perhaps most important of all, they have a shared passion to provide hope for those without a voice.
Tracey
Outreach Worker
Tracey is our outreach worker for Bradford and has been in the role for nearly two years. Whilst the role is demanding, Tracey says it is rewarding and when a service user thanks her for her hard work it is the best feeling. Tracey believes that it really makes a difference when her service users know that they have someone who will help and support them.
Robin
Outreach Worker
After stumbling upon the charity Robin was struck by the radical commitment shown to the homeless community. Early on, Robin worked in both Bradford and Huddersfield which provided a rich and varied learning curve. Robin is now a senior support worker based in Bradford and is passionate about the life of the town as a whole. He really enjoys the area and can't think of a better place to be!
Siobhan
Outreach Worker
Siobhan worked as a prescription administrator for the drug & alcohol service CGL New Directions Bradford before her role at Simon on the Streets. She applied to be an outreach worker as she wanted to have a more active role with people in the local community. Siobhan feels that being part of a team making a positive change to people in need of support is very rewarding.
Tracy
Outreach Worker
Tracy really enjoys working in Kirklees. She is very keen to promote the welfare and rights of all vulnerable people particularly those living on the streets. Tracy enjoys working with people on a one to one basis and adapting her approach to fit individual needs and circumstances.
Frances
Outreach Worker
Graduating with a BA in Geography from Durham University, Fran then went on to complete an internship working with various charities in the North East, providing outreach and housing support for rough sleepers and vulnerable adults. Loving this work, Fran went on to secure the position of Outreach Worker at Simon on the Streets and looks forward to supporting those in need in West Yorkshire.
Liz
Outreach Team Leader
I have been working in homeless services for the past 13 years, working with rough sleepers with St Anne's Community Services at a management level and the Leeds Street outreach team as a front line worker. I am proud to bring my knowledge and experience to lead a team of dedicated and experienced Workers, not only in Leeds but across Bradford and Kirklees.
Sarah
Outreach Worker
After completing an MA in Social and Public Policy, Sarah worked with individuals affected by problems associated with drug addiction before moving to Simon on the Streets.
Clair
Outreach Worker
Clair completed a BSc in Criminology and Psychology and went on to work in the psychology department of a prison. From there she was a drug and alcohol support worker in Leeds, then Keighley. She has a passion for supporting people emotionally and practically as they strive to achieve their goals.
Our
Trustees
Our team of trustees bring together a combination of expertise and skills to develop a clear strategy for the charity's future.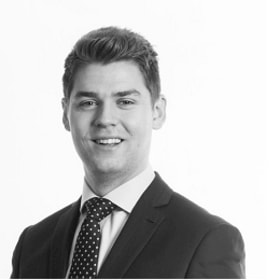 Matthew Tollefson
Treasurer
Matt joined the Board of Trustees as Treasurer of the charity in 2018 and is a Chartered Accountant specialising in Corporate Finance. He recognises that the nature of his job frequently deals with those more privileged, and believes that the same strategic and forward-thinking outlook should be applied to growing a charity which targets those less fortunate in life. Now more than ever the number of people becoming increasingly distant from the support networks available to them is an area Matt wants to be actively involved in reducing. Matt believes Simon on the Streets is an honest and open support platform established to help those most in need, continually supporting them to re-engage with society. Away from work, Matt enjoys football, cycling, and golf.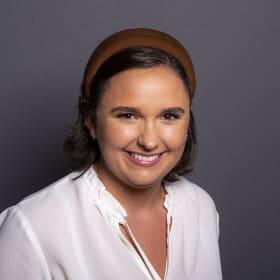 Charlotte Wright
Trustee
Charlotte joined the Board of Trustees in 2018 after being aware of the work Simon does since her days at the University of Leeds. Charlotte works for Telefonica UK as a client manager supporting local authorities and third sector customers with digital transformation projects. She has a particular passion and focus in supporting digital and social inclusion programmes with life changing outcomes for some of society's most vulnerable people. She is passionate about the ways in which technology can support our outreach workers and office staff to ensure we're as efficient and cost effective as possible. Outside of work Charlotte keeps busy walking her dog and obsessing over anything Beyoncé does.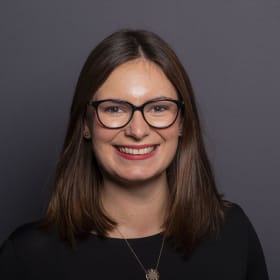 Annie Beaumont
Trustee
Annie joined the Board of Trustees in 2019 after volunteering on the Tuesday night soup run for over a year.
Prior to joining Blacks Solicitors in Leeds, where Annie is currently a Solicitor, she completed her Dissertation on 'Homelessness and the effects of laws which may hinder young people's access to housing', whilst studying for her Masters at Northumbria University.
Annie also completed a short volunteering placement with Homeless Link in London where she gained a greater understanding of the issues young homeless people face and the different strategies used by charities to help them.
Since moving back to Leeds, Annie has attended Leeds Feed the Homeless, and has been busy volunteering for Simon on the Streets. She understands that everyone faces very different and complicated issues, and is keen to work with people to help them overcome these challenges.
Annie also has previous volunteering experience with Citizens Advice Bureau, where she volunteered for over two years and helped train other volunteers to be Gateway Advisors. Annie also volunteered for LegaCare, a charity providing free legal advice to terminally ill clients.
Annie firmly believes that Simon on the Streets is able to help people who may be less likely to access assistance from other services and it therefore plays an important role in helping the homeless in West Yorkshire.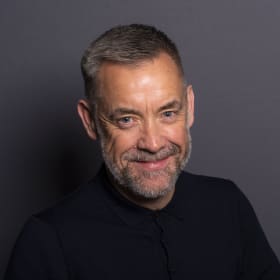 Mike Prenton
Trustee
Mike has lived and worked in West Yorkshire since arriving from Liverpool as a student some 30 years ago. His early career took him from HR management to running Employer Communications marketing agencies.
Now self-employed, he splits his time between business & career coaching; HR consultancy and teaching in the Business School at Leeds Beckett University.
Mike has been increasingly concerned over the growing homeless issue in the region for some time and is now very much looking forward to supporting Simon on the Streets as a Trustee.
Away from work you'll find Mike spending his time obsessing over Everton FC; Roots Reggae and taking any opportunity to pull on his walking boots and head for the Dales.
Louise Lapish
Chair of Trustees
Louise Lapish, Chair of the Trustees, has been a Simon supporter for over 8 years, a trustee for two and recently stepped into the position of chair. As Director of Gatewood Consulting Ltd her experience across the Business Coaching and training spectrum means she can provide great support in terms of team development and ensuring that our team live and breath the commitment of being a highly skilled professional outreach service.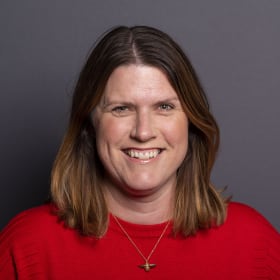 Emma Fraser
Trustee
Emma became a member of the board in 2017. Emma has worked as a senior leader and Director in the health service for over 20 years. Working in both commissioning and provider organisations; across primary, community and mental health services, Emma has worked to improve services for some of the most vulnerable people in society. Emma's experience includes leading strategic planning, transformation and change, service development and improvement. Emma is a values-based leader and is passionate about social justice and wants to utilise her experience and skills to ensure Simon on the Streets provides the best possible services and outcomes for its service users.
Emma lives in Leeds with her husband and two daughters.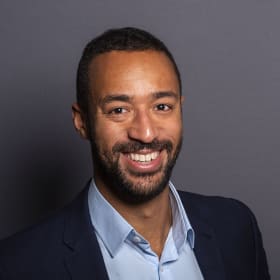 Leo Jones-Rowe
Trustee
Leo was appointed a trustee in 2019. He is a partner of Schofield Sweeney Solicitors in Leeds, specialising in commercial dispute resolution. Leo is a long-term supporter of Simon on the Streets, having first taken part in the Sleep with Simon challenge in 2012. He was impressed by the excellent outreach work the charity undertakes in West Yorkshire. As a trustee, Leo is driven to help stop homelessness become an increasingly prevalent and tragic part of today's society.
Lynne Preston
Trustee
Lynne is an experienced project and events manager within the sport and charity sectors. Having spent 6 years organising mass participation outdoor events, Lynne currently organises learning and development events, conferences and award ceremonies. Saddened by the continued homeless crisis across the region, country and worldwide but inspired by the Simon on the Streets team doing the hard work on the ground and service user's success stories, Lynne joined the Board of Trustees in 2019 and is keen to do what she can to make a difference to those in less fortunate situations. Outside of work, Lynne enjoys spin classes, visiting new places, crafting and baking, and is working on mastering the art of wedding cakes!